The Pits
on
December 2, 2011
at
1:21 pm
These are the members cars that are currently being raced with the Nostalgia Gassers Racing Association. Some of our members also have other old gassers that can no longer be raced & have been retired. You can see these in the retired section. The retired gassers are still brought out for display from time to time.
---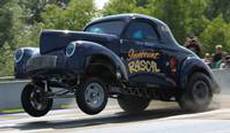 Owner/Driver: Steve Bacon
1941 Steel Willys
327 CI SBC
Hilborn Injection
Lenco 4 speed trans
514 Pontiac Rear End
---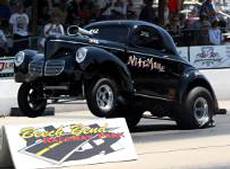 Owner/Driver: Randy Ball
Pataskala, Ohio
Year/make: 1940 Willys
Randy's Nitemare
Engine: 392 Hemi
Transmission: Turbo 400 GM
Rear end:9inch Ford , 430 spool
---
Owner/Driver: Roger Brown
Elizabeth, IN
Year/make: 1948 Anglia
427 Ford strker Motor
C-4 Trans
Ford 9″ Rear end w/spool
Roger has been racing gassers since the 60′s.
---
Owner/Driver: Ted Beach
Aurora, IL
1937 Chevrolet
Uncle Sam
Engine: 496 big block Chevy
Trans: Powerglide
Rearend: Ford 9″ with 4.88 gear
Best time: 10.08 @ 130mph
---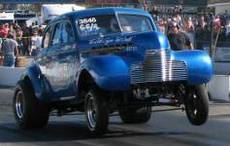 Owner Gary Blasey
Clifton, Il
Driver: Brian Blasey
1940 Chevolet
Original Gasser built into a race car in 1959, same owner for 53 years….
Small Block 377 ci
Trans: 5 speed  yes it has a clutch..
Olds 5.88 rear
Runs in the nines
---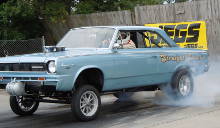 Owner/Driver: Mark Cambell
St. Louis, Mo
Car: 1966 Rambler 440 American.
Motor: AMC 390 .30 over with the following parts.
11:1 Jahns pistons
Crane solid cam and lifters
Edelbrock UR18 tunnel ram
2-Holley 450 cfm carbs
Trans: Borg Warner T-10
Rear end: Ford 9 in with 4;10 gears and spool
The car was 6 cyl. automatic when I purchased it in December 2009 it just went through a recent restoration. The previous owner was so proud of it, little did he know.
By October 2010 the build was on. I took the car to a good friend of
mine Rick Abt who did the fabrication.
We started off with a Speedway axle kit. Rick then proceeded to make
up the 8 pt roll bar and ladder bars. Next was the aluminum work in
the interior.
---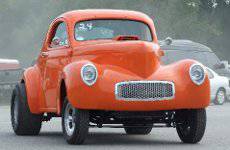 Owner/Driver: Tom Cray
Fenton Mo
Car: 1940 Steel Willys Coupe
Motor: Cadillac 472ci
Trans: T-350
Rear end: Ford 9″ w/3.0 gears
Best Time: 12:05 @ 110mph
Found in Arkansas.Purchased for $200

---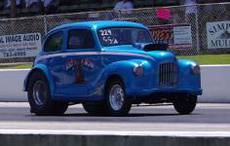 Owner/Driver: Steve Cregut
Tecumseh, Ks
Rat Now
1948 All Steel Austin Originally a gasser that ran in the 60′s out of Lewiston California
Engine: 540 Rat BB Chevy
Trans: Powerglide
Rearend nine inch Ford
Best time 9.45 et 144 mph
---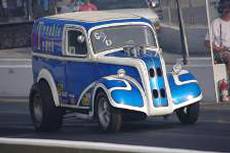 Owner: Steve Cregut
Driver: Randy Cree
Tecumseh, Ks
Trouble Truck
1951 Thames panel truck
Originally Book Mobile at University West Virginia
Engine: 400 small block Chevy
Trans: powerglide
Olds rearend w/mosher axles
Best et 11.04 121 mph
---
Owner/Driver: Ron Doran
Pataskala, Oh
1940 Willy Steel Coupe
Engine: Big Block Chevrolet
Transmission: Power-glide
Rear-end: 9 " Ford
Time: 9.60 @ 141.2
---
Owner /Driver Matt Gieser
Park Ridge, Il
1955 Chevy 210
Public Nuisance
Blown Small block
4 Speed
Ford 9'' with 4:56 gears
Best run , 10.43 @ 129 mph
---
Owner: Chad Hasselbeck
Cincinnati, Oh
Driver: Chad Hasselbeck
1937 Willys sedan
Engine: 383 small block Chevy naturally aspirated single 4bbl.
Trans: TH 350
Rearend: 9″ Ford with 5.00 gears
Best et so far is 10.77, soon to change.



---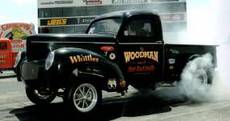 Owner Jeff & Holly Hobgood    aka "Woodman & Hot Rod Holly "
Newburgh, In
Driver Jeff
1941 Willys truck all "steel" with glass hood
454 Chevy Rat bored 30 over
Dedenbaer powerglide w/trans brake
9in Ford rear w/spool & Moser axles
Best Et 1/4 10.49 @123
1/8   6.57 @103
---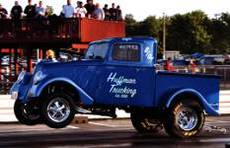 Owner/Driver:Bryan Huffman
Kewanee,IL
1933 Willys Pick up
Motor:355 SBC with 6:71 Blower
Trans:Turbo 400
Rear End: 1960 Olds w/4:56 Gears
Best Time: 10:14 @ 135mph
---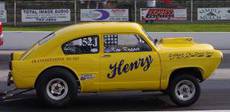 Owner/Driver: Ken Kapper
Fenton Mo.
52 Henry J Fibertrends 1 pc front end
Eng. 427 + bbc Chevy
Trans : Turbo 400
Rear end: 1957 Olds/Pont 4.10 gears w/Summers brothers axels/spool
Best et 9.70@138mph
I purchased Henry in 1974 from a Alemeda Ca. wrecking yard for $125.
---
Owner/Driver: Doug Jent
Tuscola, ILL
1941 Willys coupe  ( REAL STEEL BODY ) with glass front
451 Big Block Chrysler Wedge
727 Torqueflite with 5500 converter and trans-brake
Dana 60 with 4:88 gears
This car ran B / Gas in the early to mid 60′s in southern ILL
The best ET  1/4 mile was  9.87 @ 136 MPH  at Beach Bend in Bowling Green
The greatest race was running side by side  with Ron Norman and his blue willys through the lights with matching ET's we both ran 9.87 that was really a fast weekend.
---
Driver/Owner: Dan Lau
Elkhart Lake Wisconsin
1940 Willys Pickup
Engine: Chevy 355
Trany: 350 full manual 3200 stall
Rearend: 9inch ford 4.11 spool
Front axle: 4inch drop tube
Body: steel cab, glass nose, alum.box
Frame: stock boxed and narrowed 5 inched at the rear
Race weight: 2225 lbs.
Best et: 11.98 at 110mph
---
Owner/Driver: Jerry Miller
Lake Havasu City, Az
1955 Chevy 210 – The Desperado
Engine: Blown 509 Dart
Trans: TH400 TRANS
9″ FORD REAR END
Time 10 AT 130 MPH
---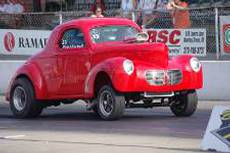 Car – Barney
Owner/Driver – Bob Mitchell
Co-Drivers – Dan/Bob Stortz
Year – 1940
Make – Willys/steel body
Mdl. – coupe
Engine – 460" blown Ford by Berger Engineering
Trans – Ford C-6 by Quality Transmission
Rear – Ford 9"
Roll cage – Jeffers
Best Time – 10.40 @ 128 mph Bowling Green Ky.
Story – found in Springfield MO
Body/Paint/chassis by owner.
---
Owner/Driver: Mike Nekvasil
Berthoud,CO
1940 Willys coupe
Colorado CONSTRIPTER
Engine: 388 cu SBC stroker 671 supercharger
Trans: TB400
Rearend: 411 posi
---
Owner: Ron Normann
Driver: Ron Normann
Hebron, Il
Year & Make: 1941 Steel Willys Coupe w/Fiberglass front end
Engine:489 CI Big Block Chevy
Trans:Turbo-400
Rear End:Ford 9″ w/4:10 Gears
Best Time to Date: 9:70 @ 139mph
---
Owner: Ron Normann
Hebron, Il
Driver: Ken Hansing
Year & Make: 1941 Willys Pick-up
Engine: Blown 383 Small Block Chevy
Trans: 400 Turbo
Rearend: 3:90 Olds
Time: (best) 9.966 @ 133.07
---
Owner: Ron Normann
Driver: Ron Normann
Hebron, Il
Year and make:1939 Steel Willys Coupe with a fiberglass 41 front end.
Engine:572 CI Big Block Chevy
Trans:Rossler Power Glide w/trans brake
Rear end: Chrysler 8 3/4 with 4:88 spool wstrange axles
Best Time:?????
---
Owner/Driver: Mark Pappas
Park Ridge ILL
1941 Willys
Engine: 540 big block
Trans: turbo 400
Rearend: 9inch ford, 430 gear
It is steel from front to back including original hood and latch. Was a real 60′s gasser back in the day.
---
Owner/Driver: Marty Stead
LaGrange, Ohio
1948 Anglia
Wizard Racing
Engine: SBC



---
Owner/Driver: Keith Stanberry
Hometown:Aurora,CO
1961 Corvette
Ducktail Express
Engine: 383 Stroker
Trans: T-350
Rear End: 12 bolt w/3:70 gears
Bset time: 11:42 @ 105mph
Big John Mazmanian Tribute Car
---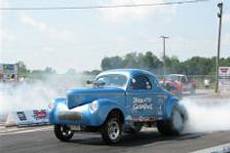 Owner/Driver: Randy Tavoletti
Hometown: South Chicago Heights,IL
1941 Willys
Steel Body
Fiberglass front end
Engine: Small Block Chevy, 6:71 Blower
Trans: Powerglide
Rear end: 60 Olds

---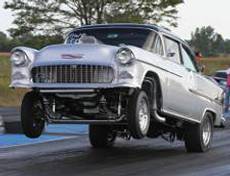 Owner/Driver: Bill Wamboldt
Hometown: Genoa City, Wi
Year/Make: 1955 CHEVY
Engine: SBC 400cu.in. (Dart)
Transmission: Turbo 400 (Coan Eng.)
Rear End: Ford 9 in. 4.86 gear
Best Time: 10.83 e.t. 123 mph


---
Owners: Bob Hajek / Bob Worrall
Driver: Danny Mann
Car: Mister Crude
The Man: Jim Predeau
Chef/Mgr.: Jeanette McDowell
Car: 1949 Anglia
Story: Found in Lawn Garden Shed
History: Gasser in the 60′s, won several races
Engine: Ford Windsor Based, Dart 427, w/225 Runner Heads
Tranny: FOM, lol…Power Glide
Rear End: 9″ Ford
Time: Injected, 9.18 @ 141 MPH Joliet, Il.
Time: Carbureted, 9.25 @ 139 MPH Bowling Green, Ky.
---